Performing Arts Summer Camp
Our theater and acting program, and our music program at Inna's Performing Arts in Cooper City let's your child spend their summer immersed in the arts. Our performing arts summer camp program provides professional instruction in music, dance, theater, and visual arts. Your child's summer will be filled with excitement, innovation, and creativity. Register your child in Broward County's very own performing arts conservatory!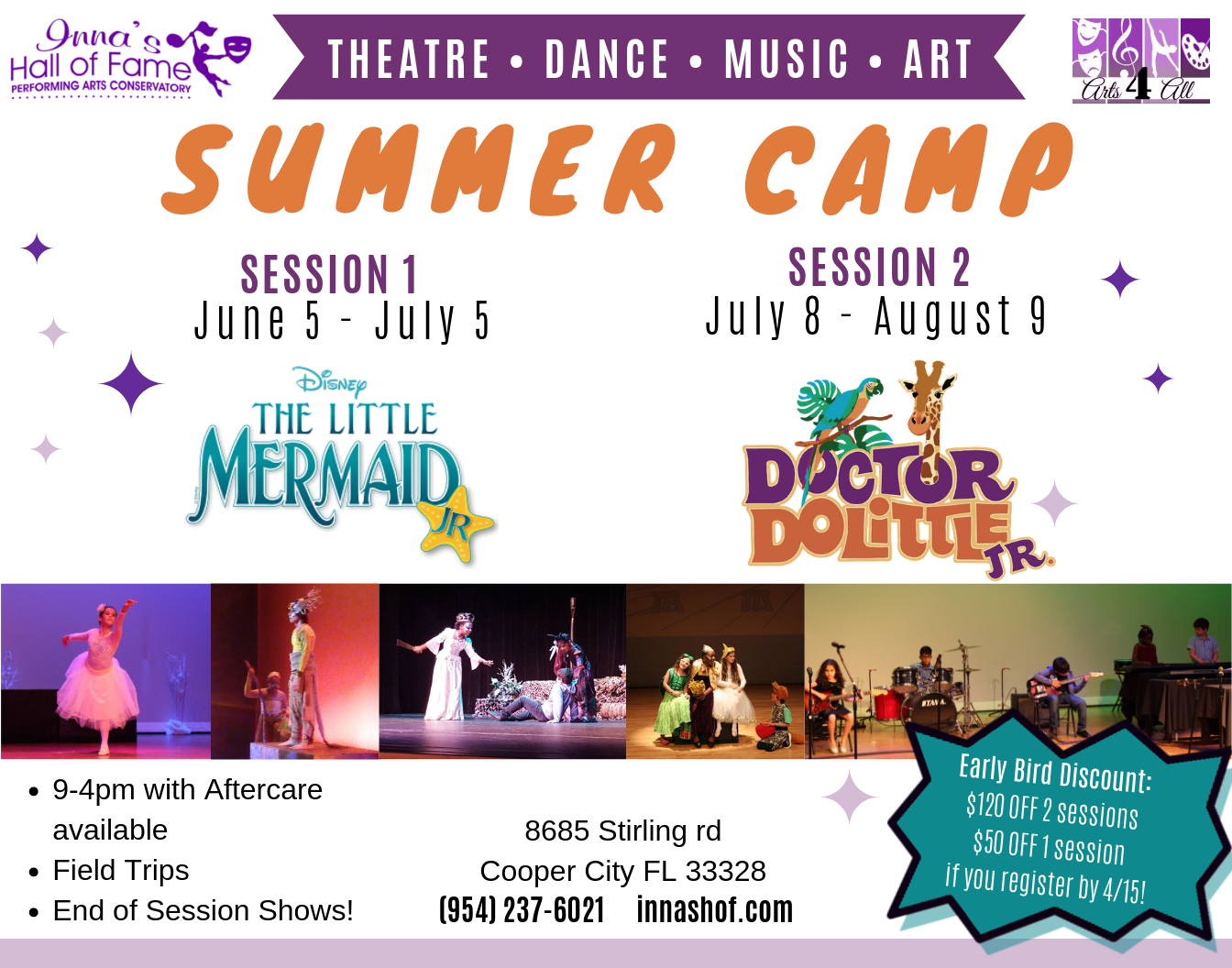 Acting and Theater Camp:
Our talented staff provides a summer theater program like no other. We work on your child's acting techniques, skills, methods and more. The musical theater performances that will involve acting, dance, voice and other musical theater skills they will learn this summer.
We put on a different musical theater production each camp session. Your child will be given an opportunity to be a star while having a summer full of adventure and fun with new and old friends. Every camper will have a part in the show. In addition to theater practice, they will go on field trips, do arts and crafts and other fun activities.
---
Music Workshop Summer Camp
We are also offering a Music Camp at Inna's Performing Arts. The music camp includes practicing piano, violin, guitar, drums and voice. Your child can practice all the instruments or focus on the musical instruments they love. The summer camp will be full of fun which will include practice with other talented campers and field trips.
At the end of each session, your child will be given the opportunity to participate in the end of session performance. During this performance, they will put on a music show to showcase what they learned in piano, violin, guitar, drums and singing.
---
Summer Camp Hours
Monday – Friday, 9 AM – 4 PM
We offer aftercare hours as well
---
Summer Camp Registration 2019 (pdf)
Summer Camp Registration 2019 (doc)